Watch more of our You Ask, We Answer video series here!
_______________________________________

You're engaged - congratulations!! Now that you've said the big 'YES!' to your soulmate (and sparkly new jewelry addition), it's time to find that perfect wedding band. Wedding planning can be stressful and choosing your wedding band might seem like an overwhelming task, but we are here to help walk you through every step of the wedding band shopping process!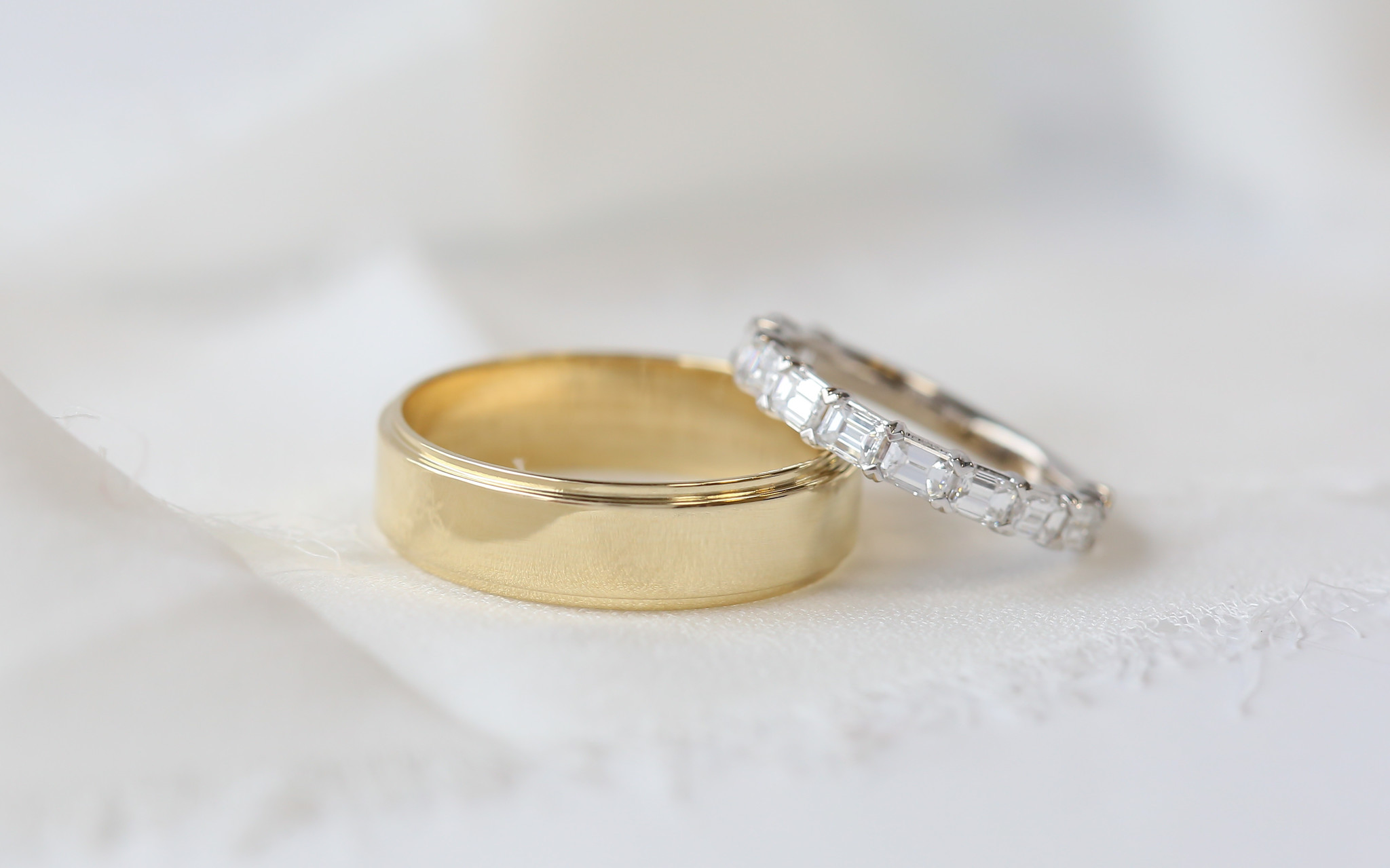 Wedding bands might seem like an 'add-on' that doesn't hold much importance to some, but it's a big part of your wedding day. Not just a symbol of your eternal love, wedding bands are a big part of the overall look and feel of the wedding set you'll wear for the years to come. We're here to make your wedding band shopping fun and easy, starting with some helpful tips on where to jump in with what metal choice, design, or engraving options you'd like!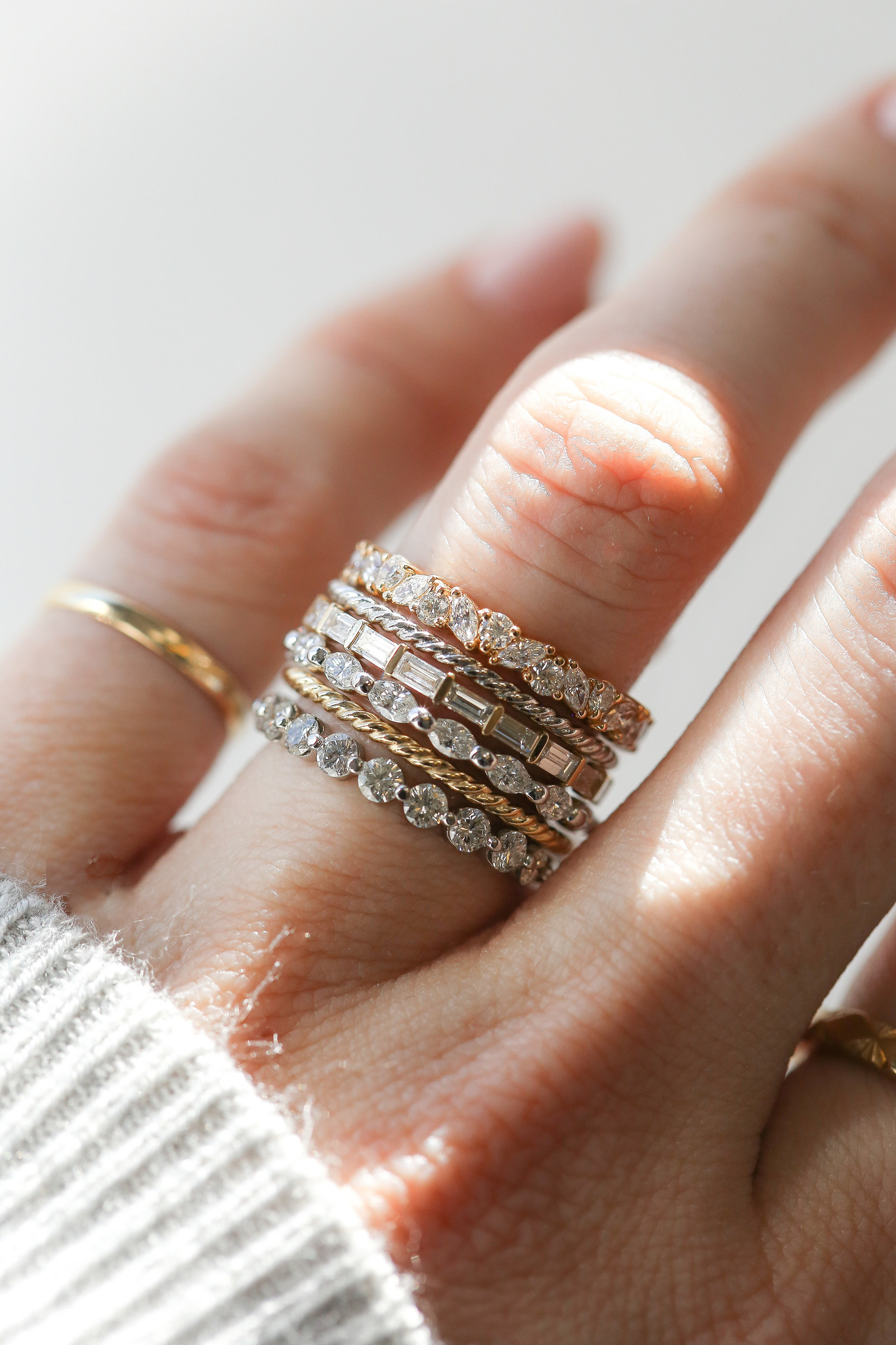 Do - think about how your wedding band will pair with your engagement ring! You want to make sure your engagement ring stays center stage and is complemented by whatever choice of band you go with, so keep that in mind when trying on different ring styles!
Don't - assume your engagement ring and wedding band have to match perfectly in style, diamond size or even metal color. Don't be afraid to branch out with a different diamond shape, setting style or even different metal color with your wedding band. YOU are the one that will wear this treasured piece and it's a perfect opportunity to add your unique and personal style.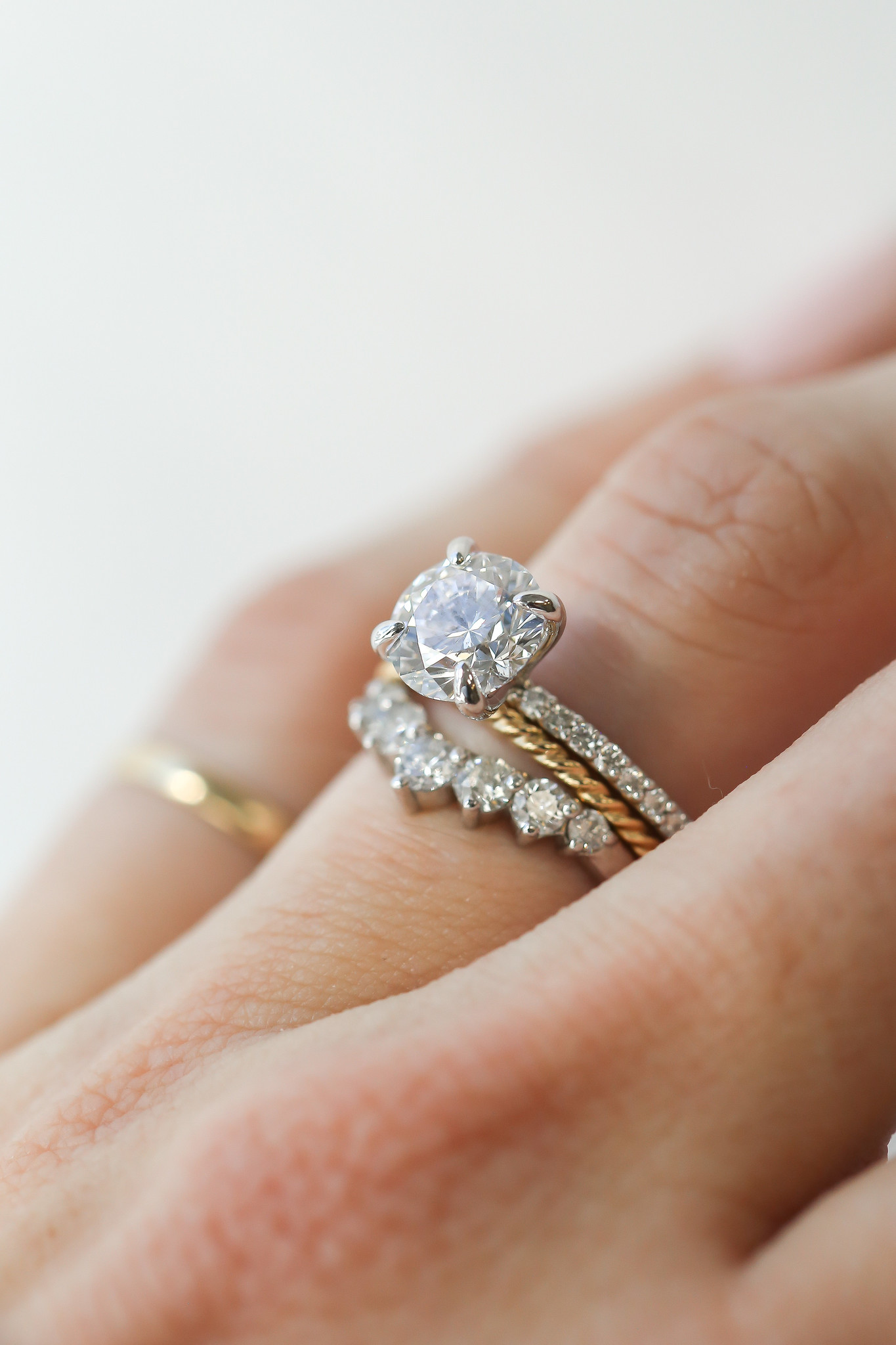 Do - keep in mind how your wedding band will fit next to your engagement ring. We often help couples that feel like they are restricted to a certain design of wedding band (whether that be a straight band or arched band) because of the design of their engagement ring. If you want a flush-fit and seamless fit, but have a low-profile engagement ring with a basket that hinders and straight band fitting without a gap, try going with a band that has a slight arch to it so the fit is snug!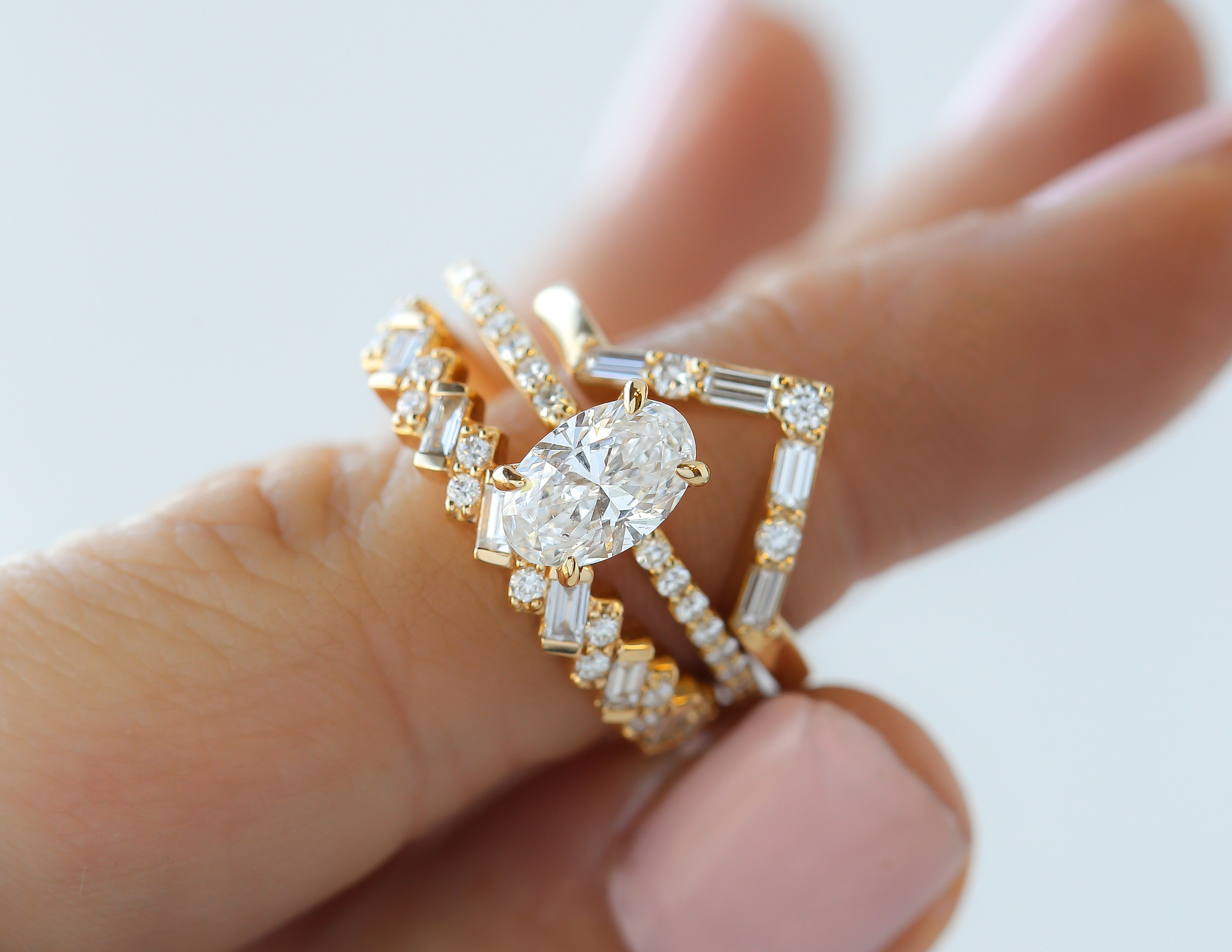 Don't - be afraid of try on a different styles! Even though you might have had a certain design of band stuck on your Pinterest board for months, don't be hesitant to try on a few different styles - you might surprise yourself and love one you had never considered before!
Do - get your engagement ring cleaned before trying on wedding bands. It will be easier to see how your wedding set will look if your engagement ring has a fresh cleaning! 
Don't - wait until the last minute to wedding band shop. Our team advises you start shopping early to narrow down your wedding band wants! While our shops are full of ready-to-wear options, sizing can take a few days to complete or if you're wanting to design  custom band, the production timeframe is about 4 weeks!
Do - find out your finger size and don't take a guess! You can swing by our stores anytime to be sized and have us note in a customer profile the best finger size for you. Depending on the design and width of your desired band, the sizing might range a bit from your engagement ring. (If you need your engagement ring sized to fit more secure, we can help with that as well!)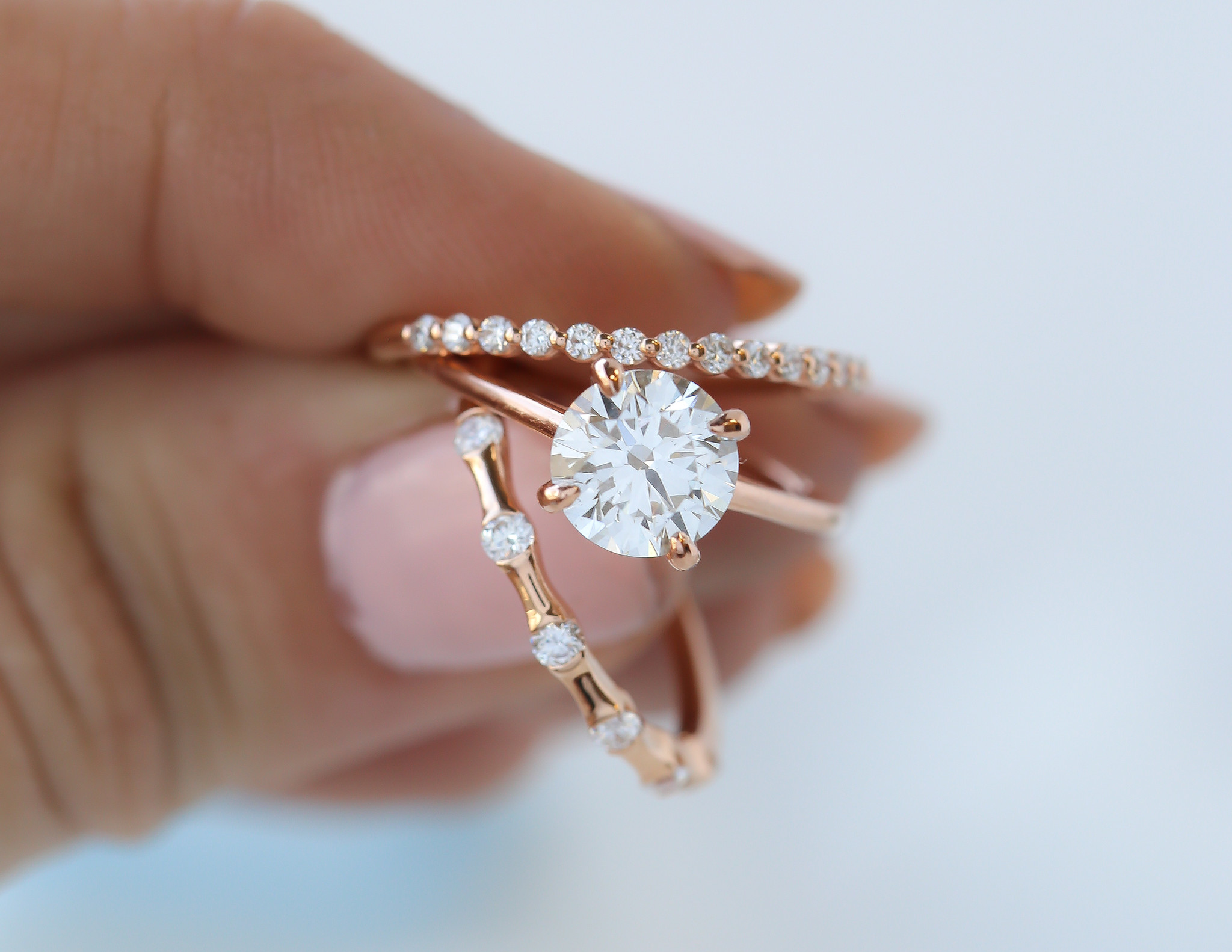 Don't - feel like you have to have the same metal color as your partner. Most of our couples end of going with completely different metals for their wedding band - people have their own preference as far as what metal color they like most or already wear.
Do - see how your first choice of a wedding band might pair with other bands for a future stack! The order you wear your rings is completely up to you (traditionally wedding band is 'closest to the heart'), but there's not wrong or right way to stack! As long as your love the order and overall aesthetic of your wedding set, feel free to rock as band different bands in as many different styles as you want!

We'd love to to help answer any of your questions or concerns about picking out the perfect wedding band - Come by our stores anytime with no appointment needed!