Watch more of our You Ask, We Answer video series here!
-----------------------------------------------------------------------------------
How to spot a fake rolex?
The Rolex brand has many models of timepieces, all with their own unique looks and functions, however they will all have similar attributes that can help you determine if it's a genuine Rolex watch, or a fake! One of our jewelry services is Watch appraisal and authentication - no appointment is needed, just swing by one of our locations and our specialists will take a look at your timepiece!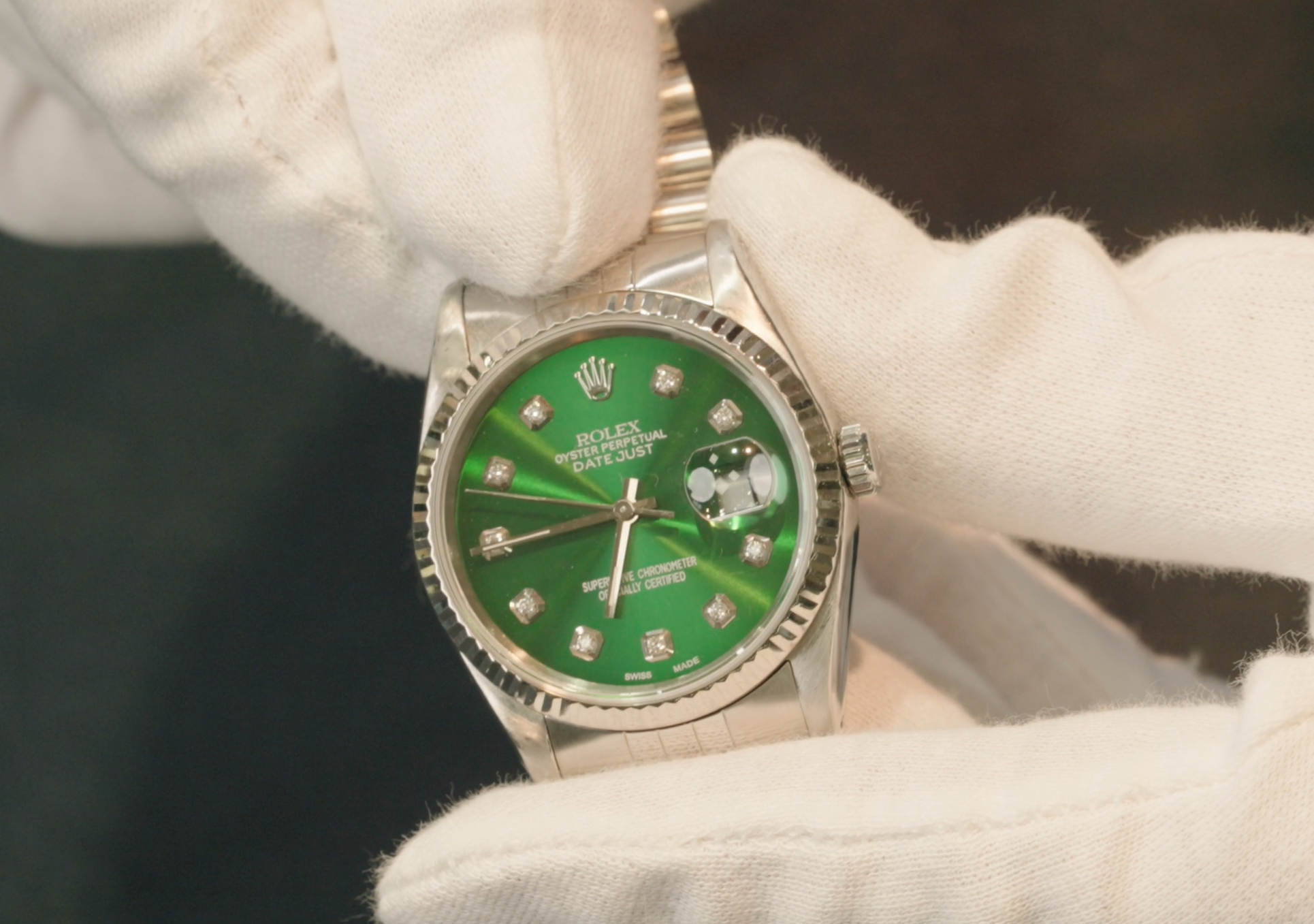 Some of the key attributes Rolex has created their watches to have is a date window that features what they call the 'cyclops eye'. It is located over the date window and built into the durable sapphire crystal. Another feature of the luxury watch is the Rolex Crown - utilizing the Rolex website is a great tool to help determine if it is genuine or a counterfeit. Something we have seen is if the watch's crown is too tall, short, wide, or is missing the rounded crown tips, it will be a counterfeit timepiece.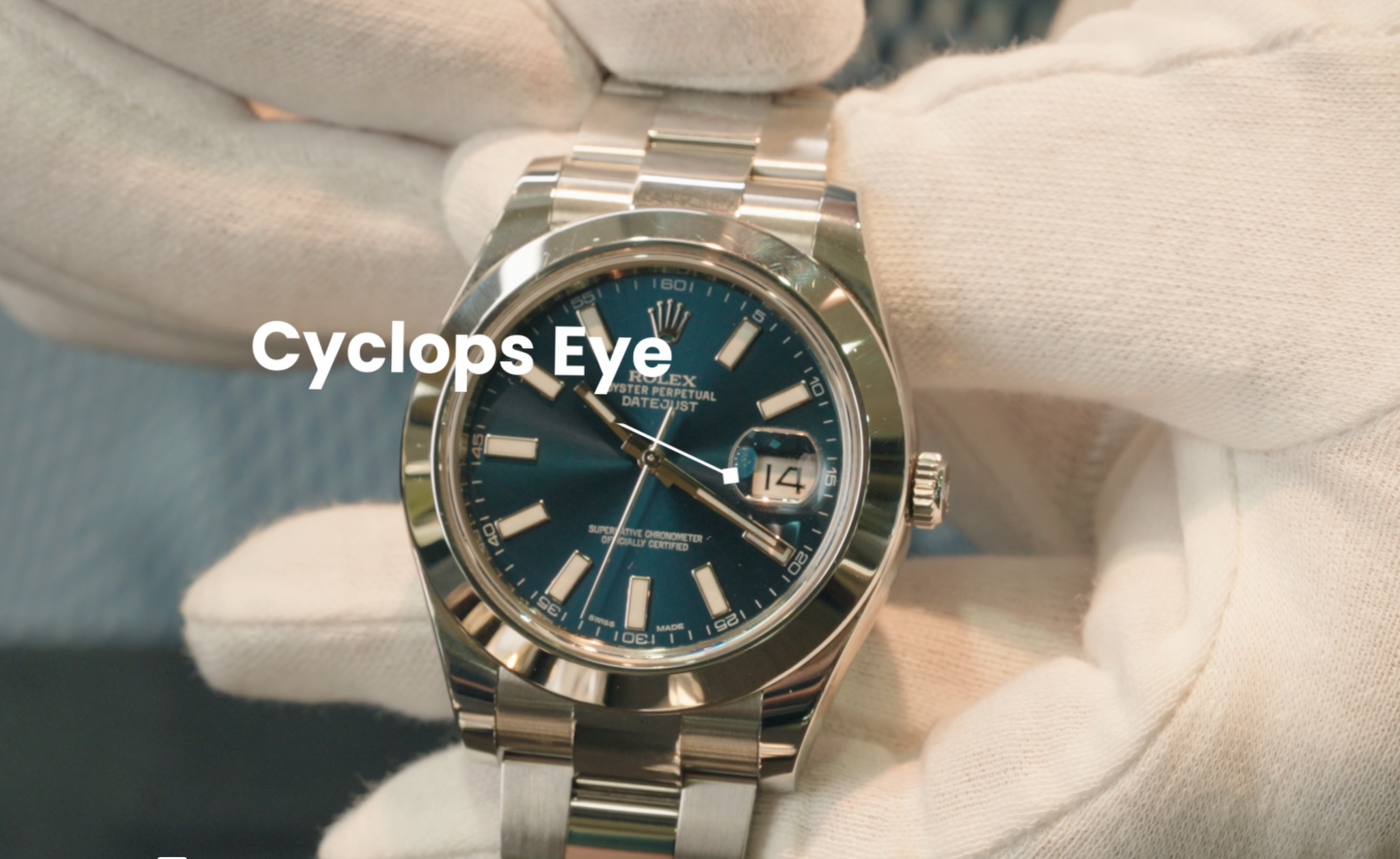 Rolex has built their watches with high-grade materials and all the parts and pieces of a genuine timepiece will have a hefty feel to them - most fake Rolexes will be light weight, but that isn't an absolute determining factor, as some fakes have been made to feel similar in weight of a real Rolex. The overall quality and build of a genuine Rolex watch will reveal a seamless, high-precision assembly, while a fake will typically have a poor finish with the assembled parts not lining up perfectly.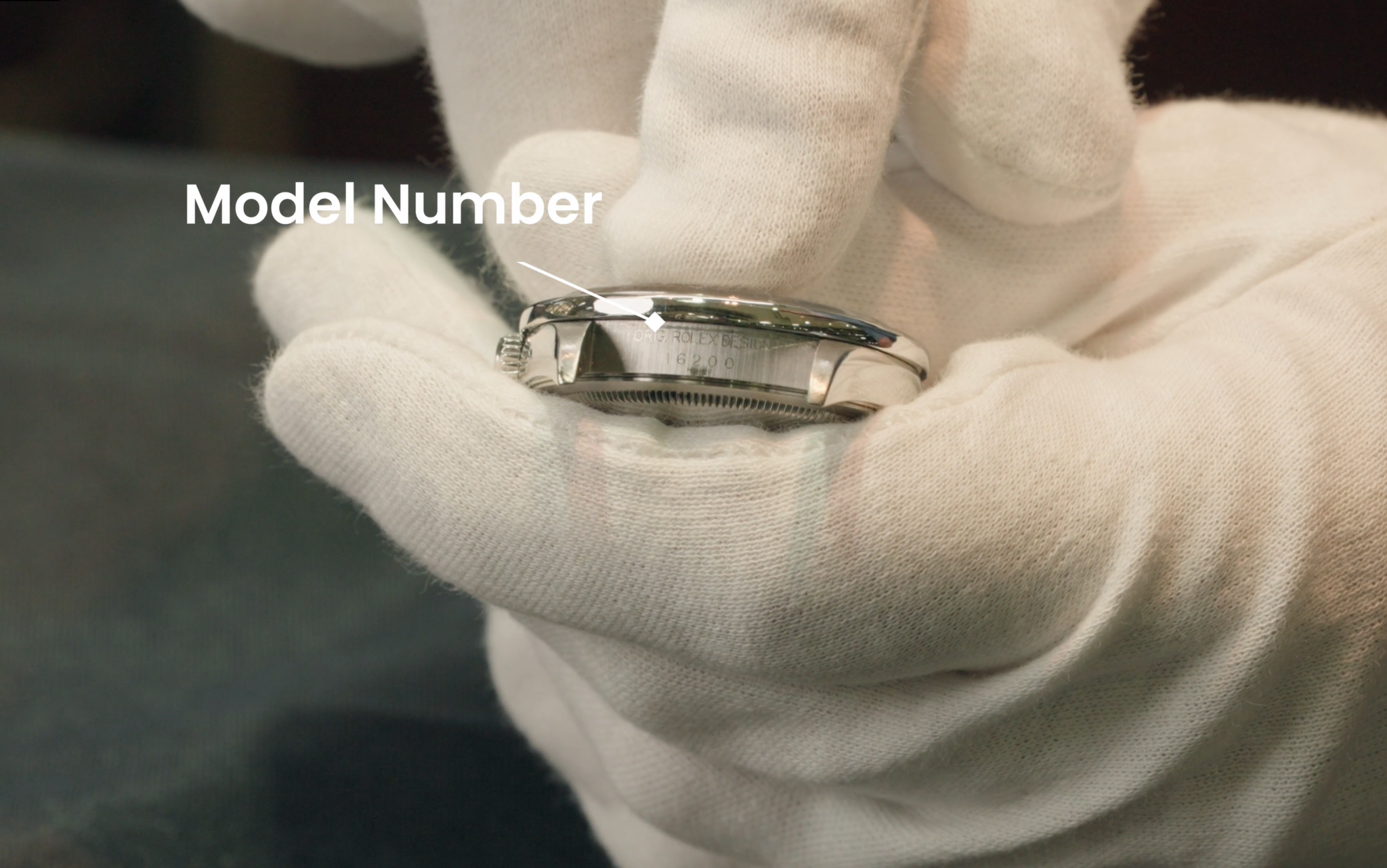 Another detail to look for is the engraving work on the watch - a genuine Rolex will be extremely clean and precise with not one single detail out of place - from the hallmarks to the engraving of the model and serial numbers. For older Rolex watch models, the model number of the watch will be located between the lugs of the 12 o'clock marker, so the removal of the bracelet/watch band will be necessary to locate this information. The serial number will be located between the lugs below the 6 o'clock marker. If the watch was manufactured after 2005, the model number will be found on the rehaut - the area between the dial and the crystal - on the 6 o'clock side of the face.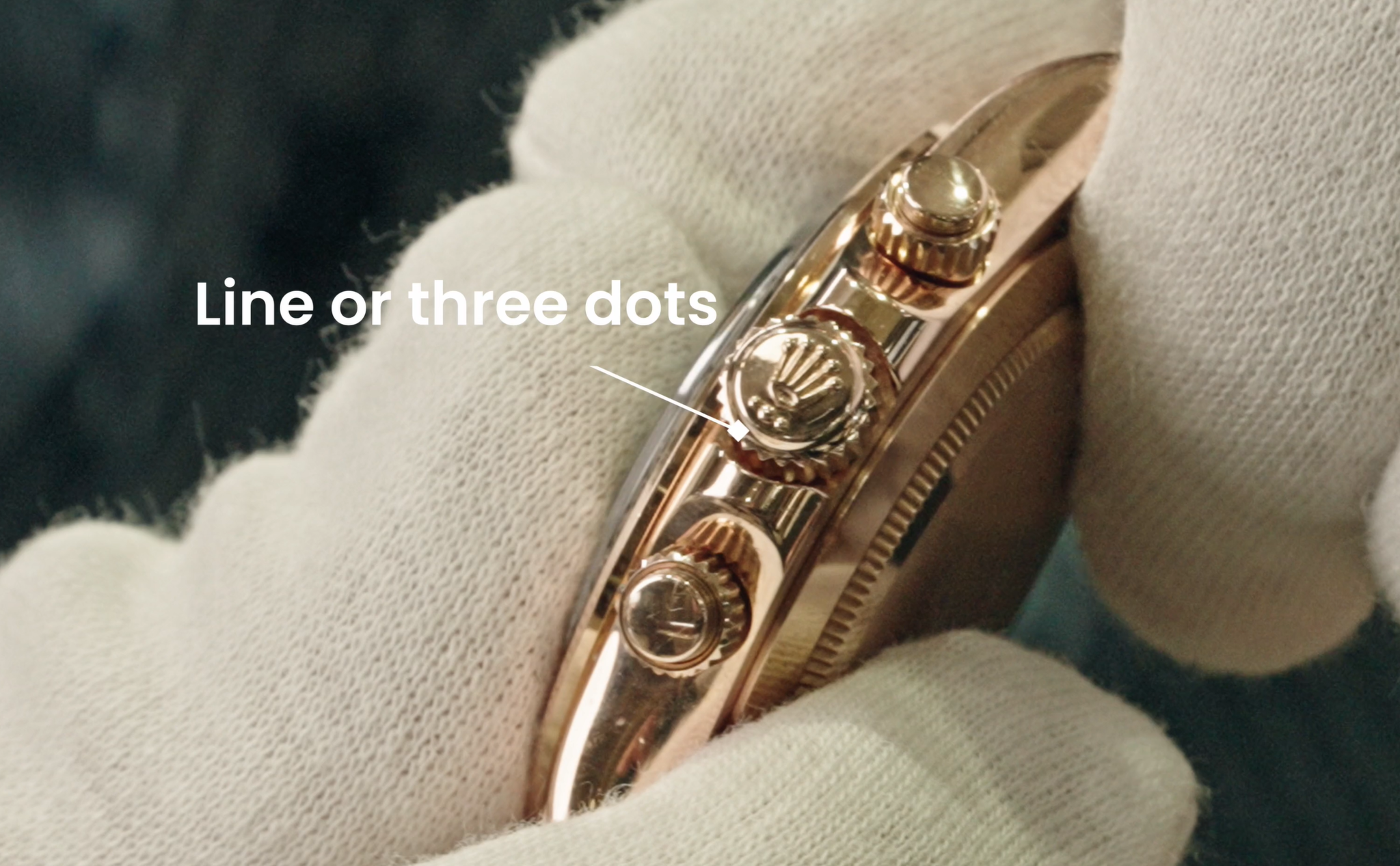 The Rolex crown is a screw-down crown, and assists in the waterproof abilities of the watch case. It will be a solid piece with the Rolex crown logo embossed with either a line or 1-3 dots to symbolize the type of crown it is. Fake Rolex watches typically have a two-piece crown and are missing the markers below the Rolex hallmark - or sometimes doesn't have the hallmark at all. Details of the watch dial will be perfect and any marker style will be shaped, attached, lumed and polished to absolute perfection with excellent craftsmanship. If the watch has diamond markers, they will be set with high-quality single cut diamonds. Other painted on details of the dial will be done with precision with no paint bleeds or blobs if it is a genuine Rolex - if there is any waviness or bleeding lines to the markers: example Swiss Made, Oyster Perpetual - it will be a counterfeit.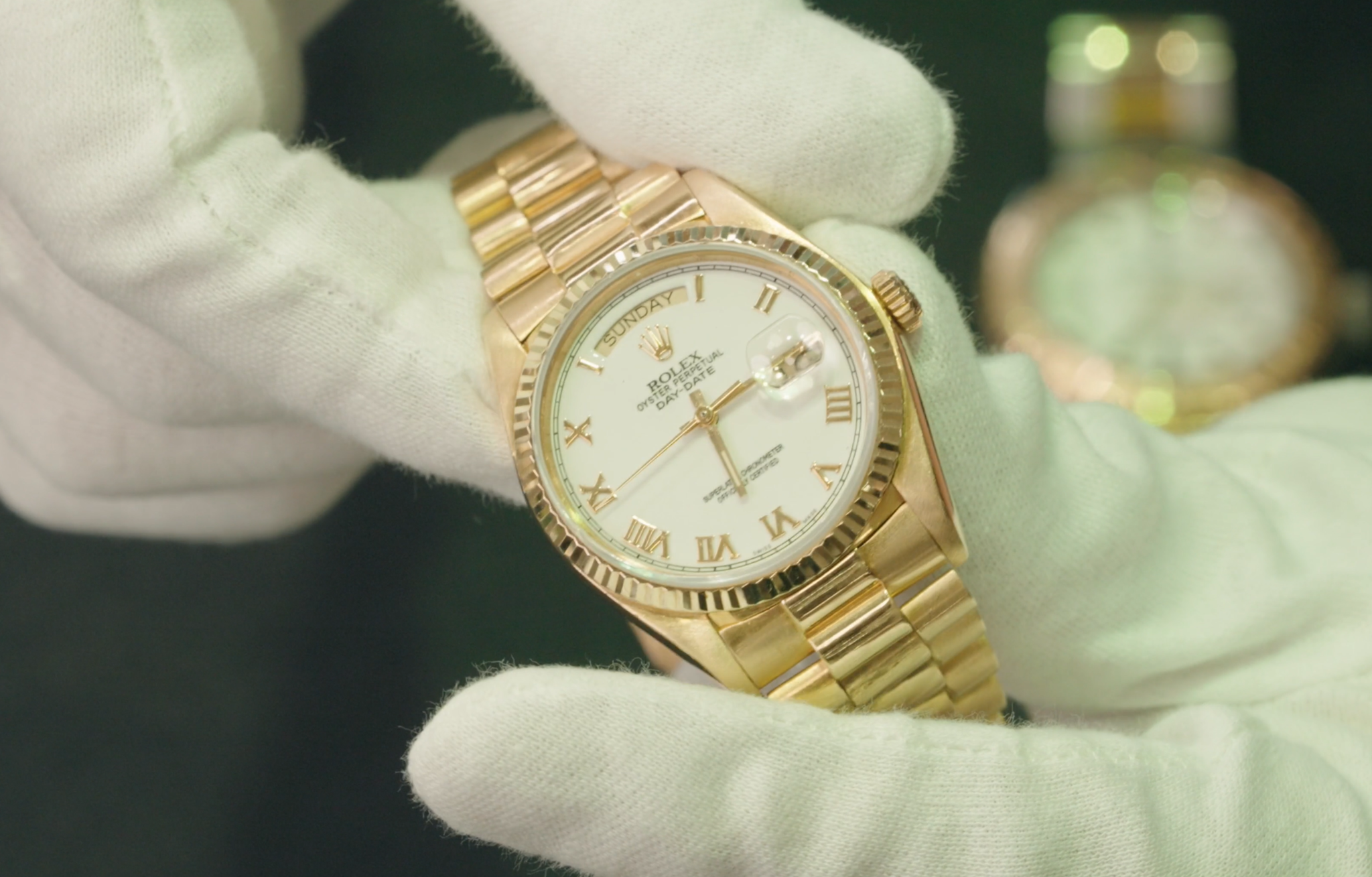 The fluted bezels on a genuine Rolex watch are made of solid 18k gold or platinum, depending on the model. Rolex uses high-quality material, such as Platinum, 18k Gold and Oyster Steel, which fakes or knockoffs will be comprised of plated metal and will be magnetic. Rolex does not currently make a watch with the exhibition case back, which is a window to see the movement, so that is a clear indicator to whether it fake or not. The flat part of the case back on a genuine Rolex will have no engraving - fakes will sometimes have ROLEX or the crown logo engraved in the center of the case back. It might seem like common sense, but if the price on the 'Rolex' you are about to buy seems too good to be true… it more than likely is a fake.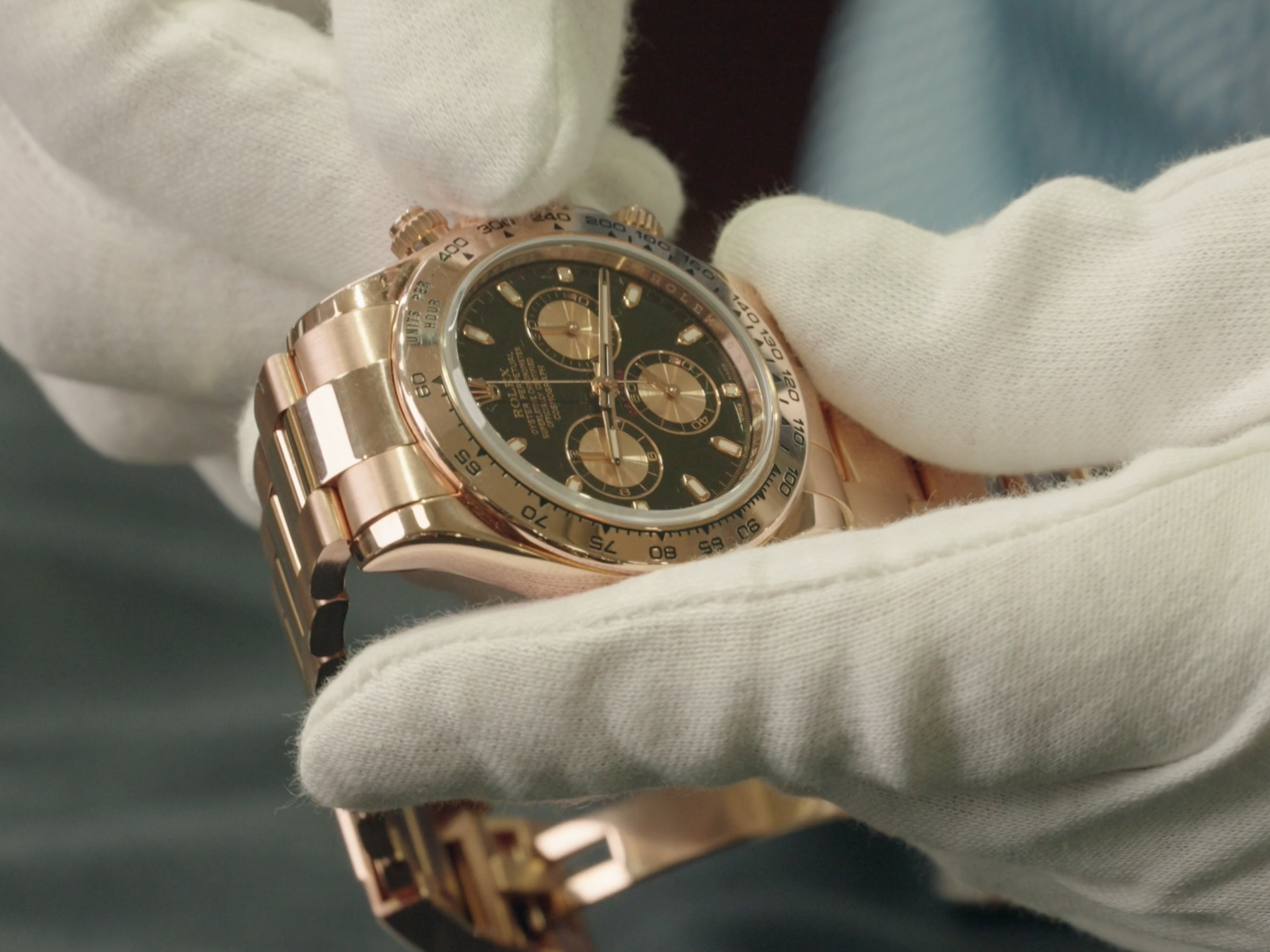 Genuine Rolex watches retain their value and even increase about market value over time! A pre-owned functioning Rolex watch, in good condition, can run around the price of a brand new model from Rolex! A side note to be aware of is just because it might have box and papers, that is not always a signifier that the watch is legit - we have seen some fake Rolex watches with faked boxes and papers associated with them.
If you have any other questions on How to spot a fake Rolex, or would like us to authenticate a timepiece for you, swing by our stores or shoot us a text and we'll be happy to help!